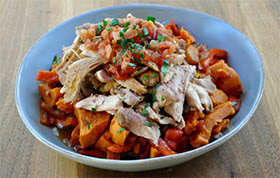 One of the best secrets to consistently eating for fat loss is to utilize a slow cooker to create wholesome, homemade meals. Slow cooker meals are incredibly simple to make, since all you do is get everything into the pot in the morning. When you get home it smells delicious and dinner is hot and ready to be eaten!
Chicken and sweet potato make a winning combination in this almost-too-tasty slow cooker meal. By utilizing bold seasoning and fresh salsa, flavor is infused into every tender morsel. Meals like this one are the building blocks of a solid, long-term nutrition plan. Lucky for us it tastes amazing!
Courtesy of RealHealthyRecipes.com
Servings: 8
Here's what you need
Olive oil spray
3 lbs skinless, bone-in chicken thighs
2 teaspoons ground cumin, divided
salt and pepper
1 teaspoon smoked paprika
½ teaspoon ground allspice
1 cup chicken broth
1 cup salsa, divided
2 teaspoons minced garlic
1 large sweet potato, peeled, halved lengthwise and sliced into 1 inch pieces
2 red bell peppers, seeded and cut into 1 inch by ½ inch strips
1 Tablespoon fresh cilantro, minced for garnish
Instructions
Rinse the chicken thighs and pat dry. Sprinkle with ½ teaspoon ground cumin, ¼ teaspoon salt, and ¼ teaspoon ground black pepper.
Place a large skillet over medium-high heat. Lightly spray with olive oil. Add the chicken thighs and cook until well browned on all sides, about 10 minutes. Transfer the chicken to plate. Remove the skillet from heat.
In same skillet, combine the smoked paprika, allspice, chicken broth, ½ cup of the salsa, garlic, and remaining 1½ teaspoons cumin.
In a slow cooker, combine the sweet potatoes and red pepper strips. Generously season with salt and pepper. Place the chicken thighs on top of the sweet potato mixture and pour the broth mixture over the chicken. Cover and cook on high for 4 hours.
Transfer the cooked chicken pieces from the slow cooker to a large plate. Remove the bones and shred the meat. Use a slotted spoon to transfer the sweet potato and red pepper mixture from the slow cooker and onto a serving platter. Top with the shredded meat and the remaining salsa. Garnish with cilantro. Enjoy!
Nutritional Analysis
285 calories, 6g fat, 15g carbohydrate, 3g sugar, 357mg sodium, 3g fiber, and 40g protein.
I hope that you get a chance to give this recipe a try this week. Remember that I'm only a call or email away to assist you in all things fitness. And if you are not yet one of my prized clients then call or email me now to set up your first workout – I'd love to help you achieve your best body ever!
Talk Soon,
David Ross
904-397-6037
B.E.A.S.T. PERFORMANCE