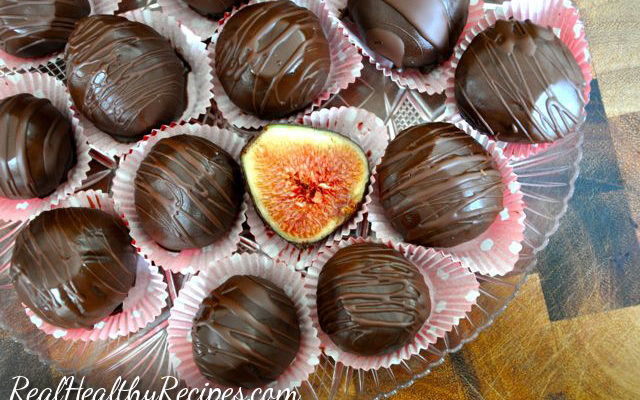 Let's enjoy a little bit of chocolate, shall we? Dark chocolate that is sweetened with zero-calorie stevia (rather than refined sugar) is an innocent way to get your chocolate fix without throwing your fitness results away. If you're a chocolate lover then give this low sugar chocolate a try, and swap it out for sugar-loaded chocolate whenever possible.
While fresh figs are surely sweet enough on their own, dipping them in dark chocolate makes an elegant, pretty dessert. And it's a wonderful way to enjoy a bite of chocolate!
Courtesy of RealHealthyRecipes.com
Servings: 18
Here's what you need
9 oz stevia-sweetened dark chocolate chips, 55% cocoa (Lily's brand)
2 Tablespoons coconut oil
18 fresh, ripe figs
Instructions
Place the chocolate and coconut oil in a small saucepan and place in a skillet with an inch of water. Heat over medium, stirring often until smooth. Remove from heat and cool to room temperature.
Wash the figs and cut off the tough stems. Prepare a large plate or tray by covering with parchment paper. Dip the figs in the chocolate and place on the prepared plate. Chill in the fridge for 10 minutes.
Dip a fork into the remaining melted chocolate and make drizzle lines across the chocolate covered figs. Return to the fridge to harden. Eat within a day or two. Enjoy!
Nutritional Analysis
116 calories, 5g fat, 19g carbohydrate, 9g sugar, 1mg sodium, 4g fiber, and 2g protein.
I hope that you get a chance to give this recipe a try this week. Remember that I'm only a call or email away to assist you in all things fitness. And if you are not yet one of my prized clients then call or email me now to set up your first workout – I'd love to help you achieve your best body ever!
Talk Soon,
David Ross
904-397-6037
B.E.A.S.T. PERFORMANCE