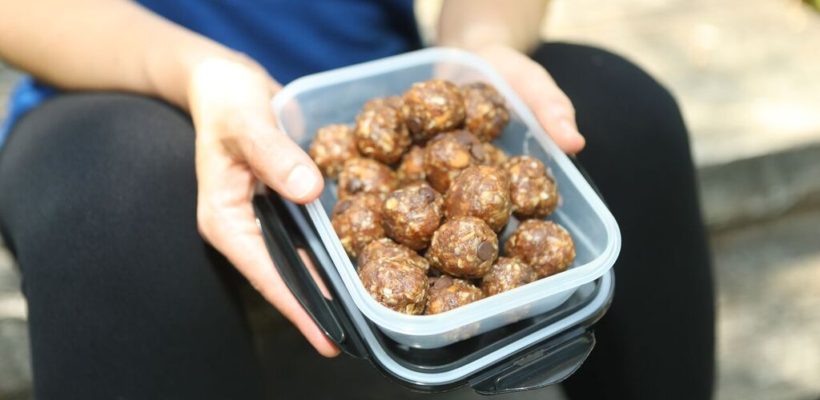 I'm always on the lookout for quick, on-the-go, protein snacks to enjoy after my workouts, and today I have a new one for you to try.
It's important to fuel tired muscles and refill energy stores after exercise, and while there are plenty of protein bars on the market, making your own protein snacks using wholesome ingredients will help keep you on track with your nutrition and increase fat burn.
Whip up a batch of these tasty morsels to power you through the coming week…
Courtesy of RealHealthyRecipes.com
Servings: 30
Here's what you need
½ cup natural peanut butter or almond butter
2 Tablespoons coconut palm sugar
1 teaspoon vanilla extract
½ cup flaxseed meal
⅓ cup unsweetened shredded coconut
1 tablespoon Lily's stevia-sweetened dark chocolate chips
¼ cup rolled oats
½ cup protein powder of choice
¼ cup coconut milk
Instructions
Combine all of the ingredients in a large mixing bowl. Mix until fully combined. Chill in the fridge for 15 minutes.
Form the chilled dough into 30 balls. Store in the freezer, then pack in ziplock bags for on-the-go power snacking. Enjoy!
Nutritional Analysis
69 calories, 4g fat, 3g carbohydrate, 1g sugar, 41mg sodium, 1g fiber, and 7g protein..
I hope that you get a chance to give this recipe a try this week. Remember that I'm only a call or email away to assist you in all things fitness. And if you are not yet one of my prized clients then call or email me now to set up your first workout – I'd love to help you achieve your best body ever!
Talk Soon,
David Ross
13241 Bartram Park blvd Suite 2005
jacksonville, fl
904-397-6037
B.E.A.S.T. PERFORMANCE
Refer a Friend