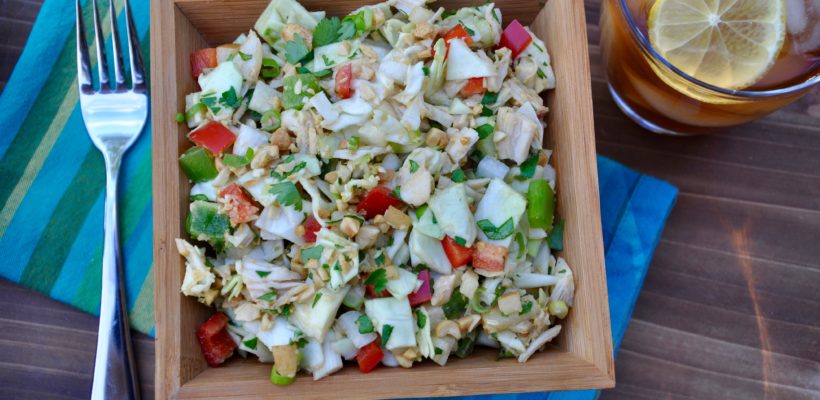 It takes a lot to get most people excited about a salad. Run of the mill salads don't even stand a chance. Until now. I can't believe how flavorful this Chopped Chicken Salad with Creamy Peanut Dressing is!
Maybe it's the bite-sized nature of a chopped salad. Or maybe it was the flavors of the vibrant, fresh produce. Or perhaps it is the creamy peanut dressing that covered every bite with comfort and love. Who knows. All I can say is that this salad is worth trying!
*Note: the peanuts and peanut butter can be swapped out for almonds and almond butter or sunflower seeds and sun butter, if you prefer.
Courtesy of RealHealthyRecipes.com
Servings: 4
Here's what you need
For the Chopped Chicken Salad
2 cups roasted chicken breast, chopped
1 small head Green Cabbage, chopped
1 red bell pepper, seeded and chopped
1 green bell pepper, seeded and chopped
1 Asian Pear, seeded and chopped
¼ cup jicama, peeled and chopped
½ cup fresh cilantro, chopped
½ tablespoon fresh scallions, chopped
½ cup Peanuts, roasted, salted, and chopped
For the Creamy Peanut Dressing
1 teaspoon Garlic, chopped
3 Anaheim chili peppers, seeded and minced
2 tablespoons coconut aminos
2 tablespoons apple cider vinegar
2 tablespoons coconut palm sugar
1 tablespoon lime juice
1 tablespoon olive oil
½ teaspoon fish sauce
¼ cup Peanut Butter
¼ cup water
Instructions
In a large bowl combine all of the salad ingredients.
Place all of the dressing ingredients in a blender and process until smooth.
Pour the dressing over the salad and mix until well combined. Serve immediately. Enjoy!
Nutritional Analysis
367 calories, 24g fat, 19g carbohydrate, 10g sugar, 177mg sodium, 6g fiber, and 23g protein.
I hope that you get a chance to give this recipe a try this week. Remember that I'm only a call or email away to assist you in all things fitness. And if you are not yet one of my prized clients then call or email me now to set up your first workout – I'd love to help you achieve your best body ever!
Talk Soon,
David Ross
904-397-6037
B.E.A.S.T. PERFORMANCE